We strive to create a safer more secure and sustainable world for our planet, our communities, our business and future generations.
We take great pride knowing that through our sustainability efforts and the solutions we deliver, we are advancing economic growth, social inclusion and improved living conditions, environmental protection, and physical and digital safety around the world.
Our Global Sustainability Policy defines our intentions for preserving our planet and advancing society while also pursuing long-term business growth. We acknowledge there is a safe and equitable space between social and planetary boundaries in which humanity can thrive, and we are committed to working within these boundaries in all that we do.
Our sustainability strategy focuses on 10 key pillars — areas across KBR where we concentrate our sustainability efforts, and which are aligned with the United Nations' Sustainable Development Goals. At the heart of our sustainability endeavors is our commitment to health, safety and security and Zero Harm.
Image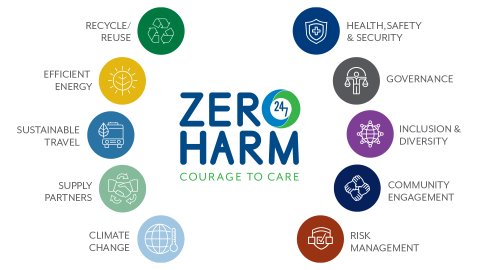 Our Zero Harm Safety Culture
KBR's Zero Harm safety culture centers around the genuine belief that the goal of zero workplace incidents is achievable.
Our mission is to safeguard the health and safety of our people, our partners and our customers, so that everyone goes home safely at the end of the day.
Since launching Zero Harm, KBR has seen year-over-year improvements in HSSE (health, safety, security and environment) performance that are consistently much higher than industry standards.
Moreover, our people have internalized Zero Harm to the extent that a commitment to safety extends outside the workplace and into our everyday lives.
KBR's internationally recognized transactional HSSE management system is ISO 14001 and ISO 45001 certified.
Learn more about Our Journey to Zero Harm.
Our Signatories and Partnerships
As signatories to the UN Global Compact, we are committed to ensuring that our business is firmly aligned with SDG principles and that they serve as the benchmark for accomplishing our sustainability goals.
We are also a Business Ambition for 1.5°C campaign member, part of the UN-backed Race to Zero campaign and a member of the Climate Ambition Alliance, confirming our commitment to the most ambitious carbon reduction pathways.
Our Sustainability Achievements
Image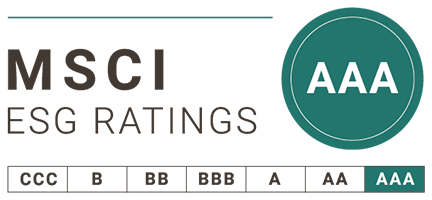 Image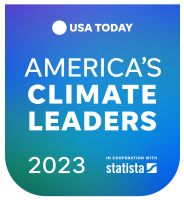 Our Key Sustainability Policies and Procedures